Bryce Canyon National Park 2021
Bryce Canyon National Park
Bryce Canyon National Park is a big national park in Utah and has the largest concentration of hoodoos. It is located at the state highway, Utah Bryce, near Bryce Canyon City. 
What is Bryce Canyon National Park known for?
Location of Bryce Canyon National Park.
Bryce Canyon National Park is famous for having the largest number of hoodoos. They're irregular columns of rocks, and Bryce Canyon National Park has the most in the whole world.
How to get to Bryce Canyon National Park?
From Las Vegas (The way we did)
You can reach Bryce Canyon, National Park from Las Vegas, or Salt Lake City. You can drive through Zion National Park to US highway 89, continue north on US Highway 89, and then make a right on Utah 12 Highway East towards Bryce Canyon City. 
First stop location: Dixie National Forest Red Canyon
On the way, you can stop at Dixie National Forest Red Canyon, visitor center, just off highway 12 unrouted to Bryce Canyon National Park. Here you will get your first introduction to the spectacular red sandstone, spires, and hoodoos. 
There are many signs along the highway and Bryce Canyon. National Park is easy to find. Bryce Canyon City and Highway Utah 63 are the closest towns before Bryce Canyon National Park. It is the right place if you're looking for a hotel or restaurant; there are many hotels, restaurants, gas stations, and stores in Bryce Canyon City.
Can you drive your car through Bryce Canyon?
Yes, one can drive a car through the Bryce Canyon. You can drive to the most southern point in Bryce Canyon, National Park, rainbow point first, and then back north. There's only one main road in and out of Bryce Canyon National Park. 
Bryce Canyon National Park requests that you're not staying overnight inside the park to leave your vehicle outside the parking area to reduce carbon emission and traffic congestion.
Trials and Hikes at Bryce Canyon National Park
The red canyon trail system has many popular trails like pink ledges, hoodoo, Birdseye and golden wall and mountain bike trails, thunder mountain and red canyon, bicycle trail, and miles of paved bicycle trails. 
Rainbow Point
At Rainbow Point, walk to the southern overlook to Yovimpa point, where you can see an area referred to as a Grand Staircase. This section or steps are named for the main colors of the rock. There's an easy flat point Eight-mile trail called the Bristlecone loop.
Inspiration Point
One of the major must-see attractions and stops is the inspiration point. You can take the Rim Trail, which extends south to Bryce point or north to Sunset Point.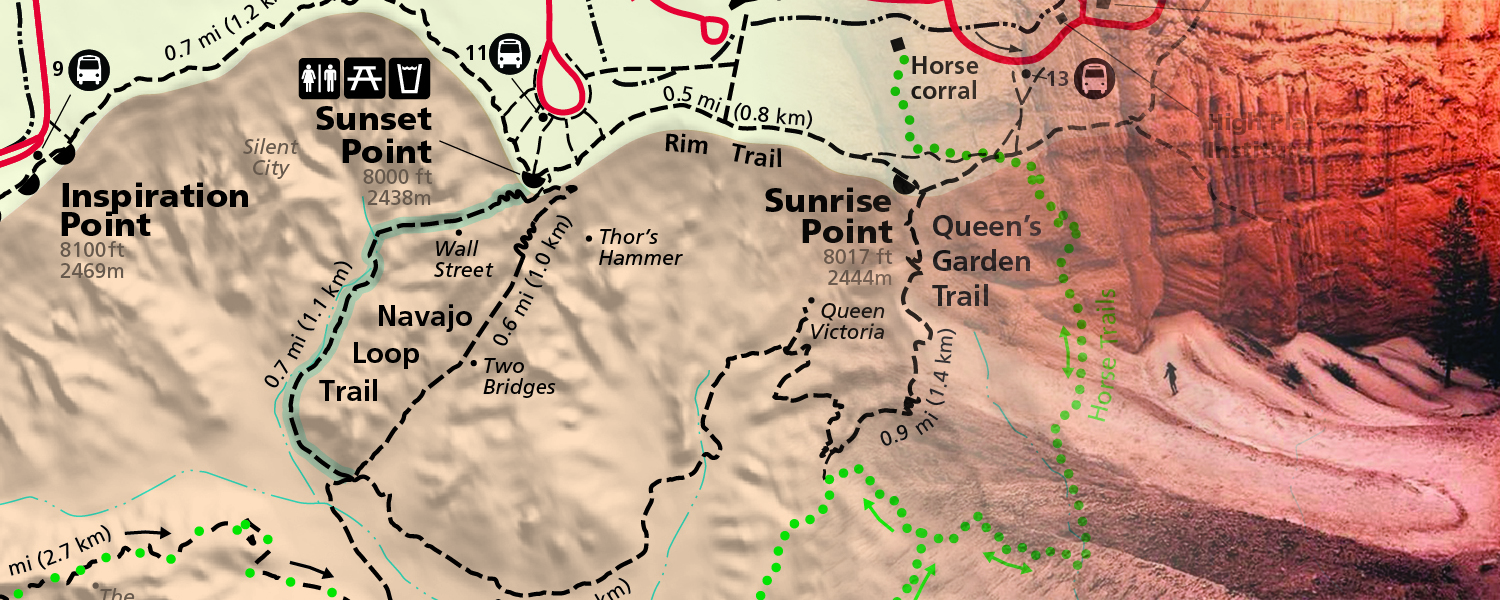 Be careful because the cliffs can be slippery, and there are no barriers at some points. Remain on the trails and behind railings for safety. By the way, no matter how cute the animals are, please don't feed them at Inspiration Point.
You'll have access to the peekaboo loop trail, which is part of the backcountry under the rim trail and connects to Bryce Point from Bryce point. If you head south, you can hike to rainbow point.
Another main stop is Bryce point, where you can see the full amphitheater if you get here early in the morning; this is also a great place to see sunrises due to the hoodoos' colors. 
Sunset Point is the most popular attraction – Bryce Canyon National Park
The next point is the Sunset Point is the most popular attraction and the busiest stop in this National Park. Parking is busy in peak hours; you can also take the shuttle to this spot. 
Sunset Point is famous because you can see the most famous hoodoos, the maze of pink hoodoos on the northern edge, and Thor's hammer are top-rated attractions. 
Curiosity point, How these hoodoos were formed?
The clarion formation of hoodoos was formed millions of years ago when limestone deposits in the freshwater lake known to geologists as lake clarion oxidized. The iron minerals make up the red oranges and yellows of the lower half of the cliffs. 
Navajo loop trail – Bryce Canyon National Park
From sunset point: you have access to the popular Navajo loop trail. The Navajo Loop trail descends from Sunset Point through the slot canyon named Wall Street. It connects to queen's garden trail to the rim trail at the sunrise point. 
Always bring a water bottle, some snacks, wear appropriate hiking shoes or walking shoes, sunscreen hat and sunglasses, and, of course, a camera. There are picnic tables, restrooms, and drinking water available at Sunset Point.
How long should I spend in Bryce Canyon National Park?
You can explore Bryce Canyon National Park in one day. One day, it is possible to hike through a garden of hoodoos, consider the view from multiple viewpoints, and thoroughly examine the park if you have below one day, which is alright as well. 
I recommend at least half a day in the park if you're not hiking or taking excursions like horseback riding, camping, or backcountry hiking. 
Number two is because the park is elementary to tour. One road goes through the park, and all of the significant sites are off that road, and you can easily take the road to the end and back in less than a day. And if you put in, even if you put in some hikes, you can still do this in a day. Of course, it's always preferable to do it over two or three days to get you many hikes in if you have more time.
The third reason that I like Bryce Canyon National Park is that it is human scale. You can quickly go down to the bottom of the canyon from the top and come back up in half a day. It is not deep. You can take the queen's garden trail, which lets you go down to the bottom and lets you walk among the hoodoos. You can look up from the bottom. It is just absolutely gorgeous as you take this hike going down and back up. 
What is the best time of year to visit Bryce Canyon? 
Bryce Canyon National Park remains open throughout the year. Still, April to September is the best time to visit and offer shuttles into the park from Bryce Canyon City from mid-April to September. 
Is Zion or Bryce Canyon better?
How does it look like the Zion National Park? You can find this photo about Zion National Park. Both equally Parks are terrific and Truthfully, ought to-see Locations. Bryce Canyon presents far more of an Aged West experience, with mazes of coral-colored hoodoos stretching out within the tall ponderosa pine forests. 
Zion presents far more of a desert rose ambiance, with enormous red & white sandstone cliffs towering up from a fantastic, sandy desert ground decorated with cactus, cottonwood trees, and occasional pines. 
Bryce Canyon is more colorful than Zion
Bryce Canyon is frequently 10 to 20 levels cooler than Zion. Bryce Canyon is more significant, although Zion Nationwide Park spans a greater distance from major to bottom than Bryce Canyon does. Both are amazing, offering different outdoor activities, it usually depends on when you visit.
Costs at Bryce Canyon National Park
How much does it cost entrance?
There is a National Park fee of $35 per car, including all passengers, $30 per motorcycle, or $20 per person walking, biking, or shuttling above 16. 
How much does it cost to camp at Bryce Canyon?
If you want to camp in North Campground, you have to pay 20$ for a tent site, and if you are camping on Sunset Campground, i.e., RV Site (no hookups available), you have to pay 30$.
Are there showers in Bryce Canyon National Park?
Showers (two dollars), in addition to a coin-operated laundry, remain open from 7 am to 8 pm can be found at the nearby store, which can be a healthful walk from the campground.
If you are interested in the accommodations deal by Booking.com, find out here
Are you interested to know more about other National Parks?
If you like this post, you may be interested in: Valley of Fire State Park